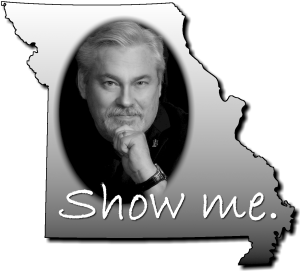 I'm from Missouri–"show me."  Behavior says who and what we are, not our "flattering words" (Psalm 78:36). Psalm 78 teaches that the Lord God declares our belief null and void if we do not trust Him. The 23rd Psalm, read too often only when things are tough, tells me atheists abound, within and without the church.  After all, if we do not follow His voice regarding drink there, rest here, follow His lead, is there any other conclusion but "atheist?" Is belief without trust not mere poppycock? Let there be no pretense. Make no mistake about it, the comfort of Psalm 23 is for those who listen. Those who learn. Those who lean.  Listen to, learn from,  and lean on the Lord God Yahweh. Only then will we live in His home, forever.  Listen. Holy Spirit is not through with you.
Here's what this Missourian read when reading/studying Psalm 23 recently…
Yahweh the Lord God Almighty is my boss, my master, my owner, my guide.  Therefore, I need nothing but Him; He provides everything I need.  Here's why:
My boss makes me rest where there is plenty of peace, quiet, security.  My soul gets tired; then, He leads me to sources of enrichment which do not confound me, but truly restore me.
On my way in life, there are many paths, but my Master shows me paths which lead to being close to Him, for His glory, for His honor, for His reputation.
Yes, there are times when I must walk through dark valleys, valleys with the veritable shadow of death encircling me.  Yet, I fear not death, nor evil, for You my Friend are with me.  I find comfort in the strength of Your power and Your guidance.  Your rod protects; Your staff guides.
Even though I am compelled to fellowship with my enemies, I am anointed with Your blessing, so much so that I am overwhelmed with Your presence—my cup indeed overflows.
So?  Your love, Your goodness will be my protection, all my life; You will pursue me.  Thus, I will live within the Lord God Yahweh's home, forever.