Courage Conquers Compartmentalization…
In December of 2012, America's remotes voted in a new champion—Duck Dynasty won outright the Wednesday evening 10pm ratings race.  6.5 million viewers watched a Christian family enjoy its self-afflicted, tongue-in-cheek high jinks, and Christian faith.  An acquired taste, Duck Dynasty is nonetheless a bright spot on the media horizon.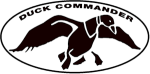 Our culture tends to compartmentalize life.  We put our job in one compartment, faith in another, and family in another box.  Compartmentalization seduces us:  we believe we can serve more than one master, simply by thinking and acting differently within each compartment, as if one did not affect the other.
Rabid compartmentalization produces moral lapses as in "It's just business" or "Talking about Jesus will get me fired" or "What the IRS doesn't know won't hurt them."  Eventually, we tear ourselves apart thinking what happens in one box won't affect another, or we become so split, we develop a different personality for each of our "compartments."
Colossians 3:23-24 teaches us that we are to do all things as unto the Lord God.  Jesus taught us not to compartmentalize—we can not serve God and mammon.  Willie seems to have it right.  His success in business led to success in the media to giving him a platform on which to glorify the Lord God (see a GodTube video).
As you note those who are successful as parents, teachers, politicians, managers, and even pastors, please pray for their continued success, and particularly that their success in that endeavor will bring glory to God in all their endeavors.  Relatively few would be interested in hearing about Jesus from Tony Dungy, or Desmond Tutu, or Mother Teresa or Bobby Bowden, or Willie Robertson were it not for their success elsewhere.  All "did their thing" as unto the Lord.
So, as the new Duck Dynasty season begins, I encourage you to look for new changes.  Previous years have seen their show not only become more popular, but even more up front about who they are as Christians.  Their evening prayer and how it ended the second season's episodes says it all.