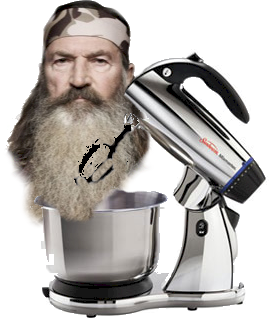 Phil Robertson's beard got caught in our culture's Mixmaster® of sin tolerance. The Duck Commander had the audacity to reference Scripture which calls the practice of homosexuality, adultery, gluttony, greed, etc. as what it is … sin—down home, crude & rude, God-wrath inducing sin.
Sin is not a popular idea today—it suggests someone actually knows what is really righteous and what is not. Phil made it clear Who makes that decision. But our world doesn't like being ruled from on high. After all, this is the age of ME (aka, Sheilaism, Habits of the Heart).
In an  article in GQ (not for the faint of heart), Phil was asked about his attitudes toward homosexuality and a variety of other issues. Rather than couch his answers in socially acceptable ways, he talked like he is, by his own description, "white trash." Neither gentle nor respectful. His family released a statement calling his answers coarse, but nonetheless consistent with Biblical truth.
The whole incident demonstrated God's wisdom. God told how believers must respond to questions like those in the GQ interview. But, rather than being "gentle and respectful" (see 1 Peter 3:15), Phil tried the "I'll shock them into reality" approach.
One can be so right, but simultaneously so wrong when how the right is presented–so much so that what is right is overlooked.
Being right does not solve the problem.
As you may recall, I love Duck Dynasty (see The Scoop). The show is replete with God-fearing values exemplified by a God-fearing family. I have laughed so hard I've cried, and I've swelled up so much with pride I was embarrassed. (Willie and I are both alumni of Harding University, "the west point of evangelical Christianity."  Nope, we didn't overlap, but Ken Starr and I did share a year at Harding together.)
So, it is with regret that I hear Phil was threatened to be "suspended" from the show by the A&E network. I would have missed Phil. He shoots straight whether at ducks, or at the truth. Both shots startle me, but now I will always have a great example of why God is so brilliantly wise…
… in your hearts set apart Christ as Lord. Always be prepared to give an answer to everyone who asks you to give the reason for the hope that you have. But do this with gentleness and respect … [1 Peter 3:15]