Every week I get about 3 to 4 opportunities to acquire debt.  It seems CitiBank, Bank of America, and Wells Fargo all think I'm a Rockefeller descendant  I've learned Visa, Discover, MasterCard applications are clearly heterosexual—they multiply profusely in my wastebasket.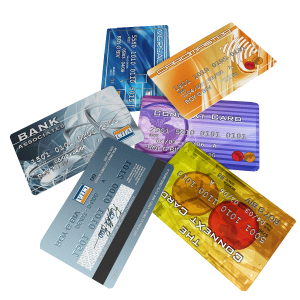 My business credit cards are with Chase & American Express, and our family cards are with SunTrust.  They treat me as a Rockefeller even though they know I'm not.  And so, I stay with Chase, American Express and SunTrust.
God actually knows how good I am, yet He doesn't send me new applications each week to be made better.  You see, He came to earth to build my credit.  It seems I was so much in debt that I never will be able to pay the Lord God what I owe Him.  So, He paid the price.
So what is my heavenly FICO score?  Well, I'm on the books, by the way (see Philippians 4:3).  Even though I might have a 750 on a good day, the Lord God requires an 850!  But, with God I have a perfect FICO score of 850.  It's based on His righteousness, not mine.  That's why my FICO score is based on His work, not mine.
So if I'm in so much debt and can't ever pay off my debts, why don't I declare bankruptcy?  I did.  In 1961 I laid my debts at the cross, and He paid the full payment—for debts past and debts to come.
I've never really seen my heavenly FICO score.  I trust it is indeed 850; otherwise, at the day of my death or judgment day, whichever comes first, I'd be left holding the bag.  When I'm worried about whether I'm "good enough," I just remember three things:
I am not good enough; Father God is (Romans 3:22-23).
Jesus is preparing a place for me (John 14:3).
Holy Spirit is guaranteeing my debts on that day (Ephesians 1:14).
I've told you about my credit rating.  How's your FICO score?  Read Romans 8 to improve it.